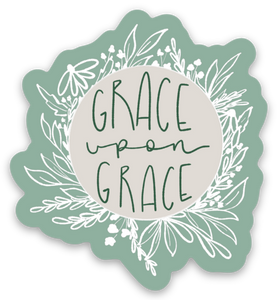 Vinyl Sticker | Grace upon Grace
Grace upon Grace

1.83" x 2"
Vinyl stickers are a great way to personalize your computer, phone case, water bottle, binder and so much more!
These stickers can be placed on any hard surface, the possibilities are endless!
* Easy peel and stick * Durable and thick material
dishwasher safe 
Made of thick, durable vinyl to protect your sticker from scratches, sunlight, and water.